Amazon FBA Review: Deep Look At Amazon's Popular FBA Program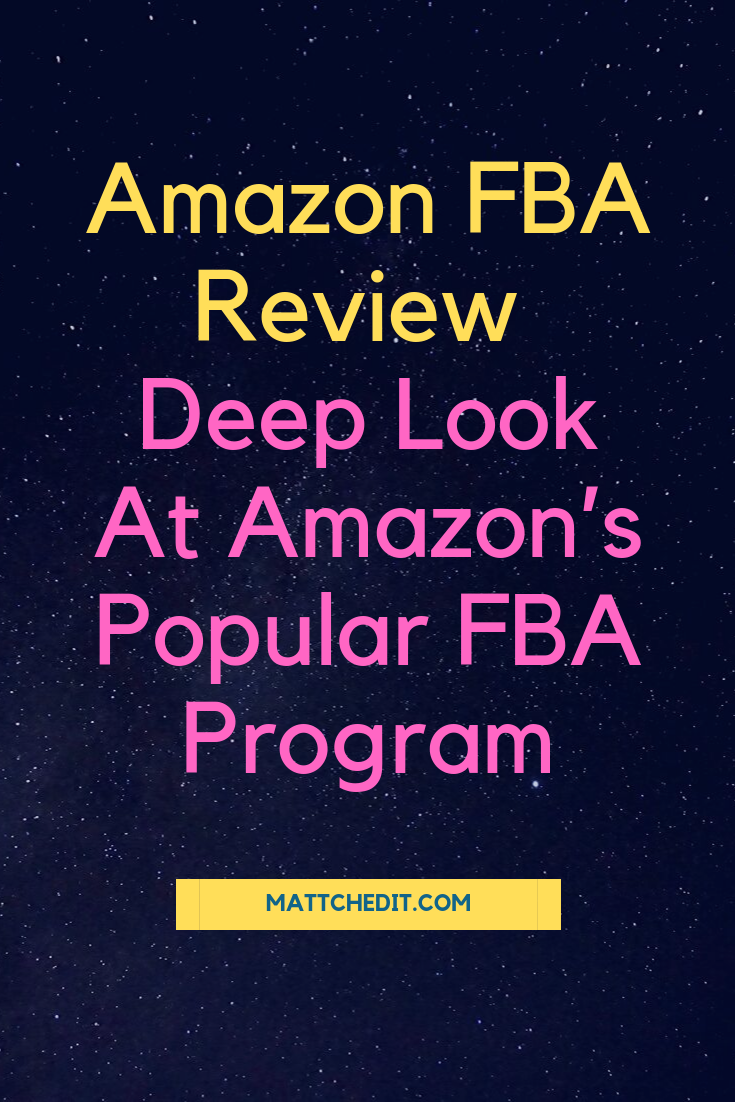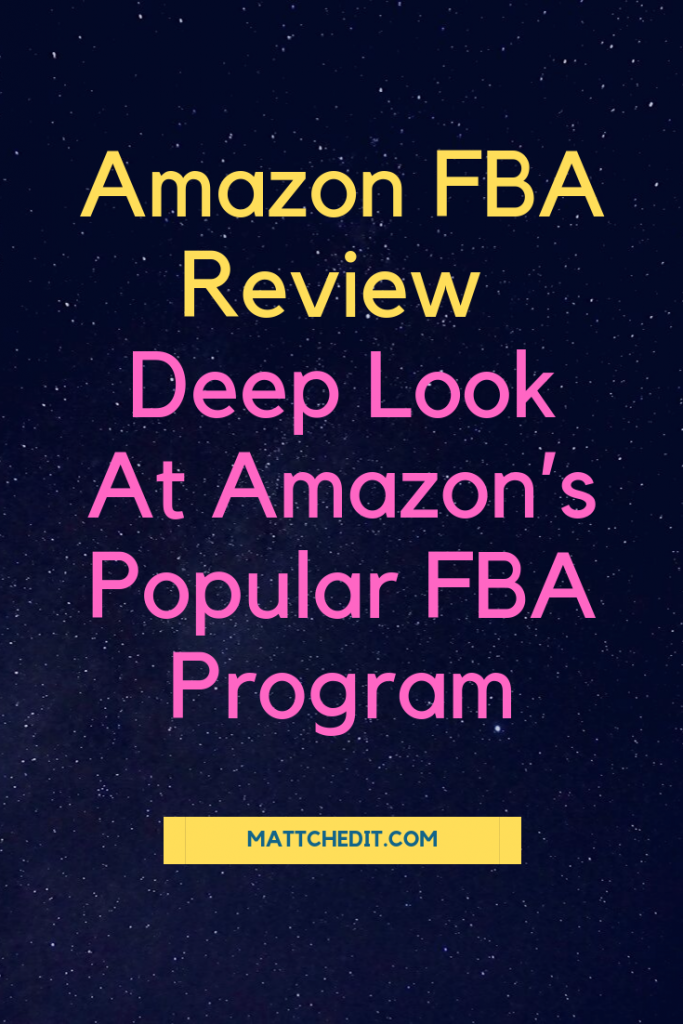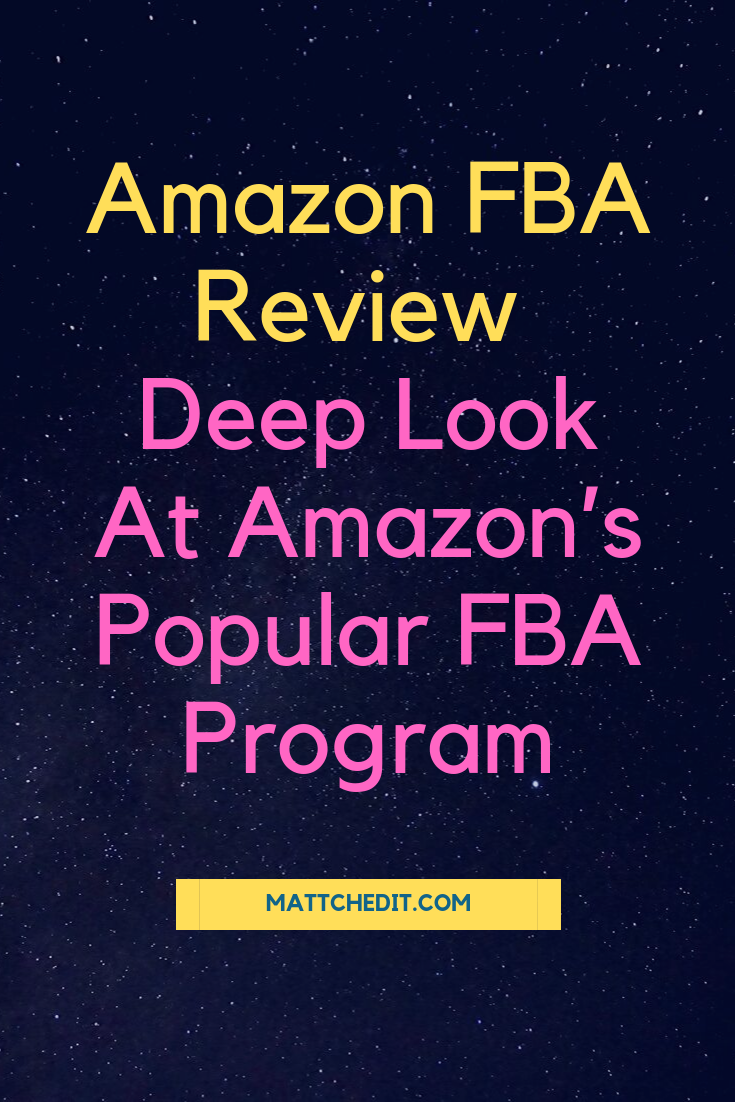 A Brief Look At Amazon's Popular Fulfillment By Amazon Program
The Amazon FBA program is useful to any individual seller or business owners who want to sell their products on the popular Internet marketplace.
By enrolling in the FBA program, you can reduce the time you spend on selling your products, packaging them up and shipping them out to your customers.
Amazon's FBA program will do the majority of the legwork for you.
Interested?
What's The Process Like?
The great thing about the Fulfillment by Amazon process is that it's easy.
You are given space in an Amazon warehouse to store your products until they're sold.
When a person buys your products, Amazon is responsible for packaging and shipping it out to the customer.
They will also be on hand to address any customer questions, comments or concerns your buyers or prospective buyers have.
What Are The Fees of The FBA Program?
For a small fee, you can use the FBA program to handle most of the business aspects for you.
Rather than opening a warehouse of your own and shipping out the products when ordered, Amazon's workers will do this for you.
You save yourself money by using the Fulfillment by Amazon program.
You'll be charged for space in their warehouse and the amount of orders Amazon will have to take care of.
What Can You Sell with The FBA Program?
The great thing about this program is that there are dozens of categories you can sell in.
Most sellers tend to list products in the Open Categories sections, as the listing doesn't have to be pre-approved.
What are some Open Categories you can choose from?
• Accessories for Electronics
• Baby products
• Books
• Cell phones
• Home and Garden
You may also see a section for Professional Seller Categories, which do need prior approval before being listed.
These categories include but are not limited to:
• Automotive and Powersports
• Collectible Coins
• Clothing and Accessories
• Grocery and Gourmet Food
Do you think the Amazon Fulfillment by Amazon program is right for you and your business?
Check it out today: AMAZON FBA FREE COURSE
A Closer Look At Amazon's Popular Fulfillment By Amazon Program
E-commerce has a lot of charm to it – an infinite number of choices, easy access and rapid order processing.
If you look at the program with an open mind, you can see the benefits that surround it – both for sellers and buyers.
The allure of e-commerce business tends to be rooted in the fact that it can lead to more revenue and buyers from around the world.
It's chaotic for e-merchants to satisfy market demand and stay attentive to the daily runnings of their company.
This is when extra assistance comes in handy – to ensure your business stays organized and on top of its operations.
This is why Amazon developed its Fulfillment by Amazon program – to give e-merchants a little extra help by taking care of the intricate duties that come with fulfilling orders.
No longer do you have to contend with the tedious of packaging and shipping your products anymore.
Amazon's program will do this for you!
The FBA program was set up to offer sellers a place to store their inventory.
When a person orders one of your products, the warehouse personnel is responsible for packaging and shipping it out in a timely manner from a fulfillment center.
Like any e-commerce business, this ready storage fulfillment will help improve business, profits and customer service.
The great thing about the FBA program is that it's geared to both small and large businesses and entrepreneurs.
It allows them to meet their customers' expectations quickly.
If you're a wholesaler or manufacturer, you can pay closer attention to production and purchasing rather than product maintenance and holding.
Amazon's FBA program will contend with all that for you – no need to concern with shipping whether the order is small or large.
You may think that the entire FBA system is complicated, but the reality is that it's quite simple.
It's designed to keep track of the latest trading demands and e-commerce trends.
Once your products have been sent to an Amazon fulfillment center, they stay there in its warehouses until an order is placed by a buyer.
It is then shipped out to the buyer within one or two business days.
As soon as Amazon is notified of the order, they get to work on getting the order ready for shipping.
Once the products have been packaged, Amazon will ensure that the product is delivered to the address provided during the checkout process from the fulfillment center.
After fulfillment charges have been deducted from the order, you'll be credited the rest of the sale amount.
This transaction process will continue for all orders.
Again, the entire process is easy from the first step to the last, making it one of the most trusted ways to do e-commerce business with Amazon at the helm of your packaging and shipping needs.
Amazon Offers Fulfillment By Amazon Program for Anybody Who Has Something To Sell
When Amazon was first created, it was a place to sell books.
However, in the last 10 to 15 years, it became a place where you could sell anything and everything.
In fact, it's now recognized as one of the biggest websites in the world.
It's a great place for well-known companies to sell their products to an even broader audience as well as for entrepreneurs just starting their company.
Amazon lets anyone and everywhere become successful by selling any kind of product.
In the last two or so years, the company has worked on another money-making option for individuals and companies to take advantage of – it's known as Fulfillment by Amazon.
What Is Fulfillment By Amazon?
How Can You Make Money Through It?
The Amazon Fulfillment by Amazon product is a great way to earn a little money in the digital age.
It's a business model that lets you focus primarily on making sales and advertising.
Amazon does the hard work of storing, stocking and shipping products that you have to your customers.
Amazon can be a bit confusing to some folks.
They adopt the newest, most innovative business models and invest millions of dollars to make sure they stay relevant and successful.
Most people have heard of Amazon because of its brand image as well as its ordering and distribution systems.
No other company has been able to rival Amazon's business model.
In fact, anybody can join Amazon and sell their stuff for nothing upfront. It may seem crazy, but that's what Amazon is doing.
Best of all, it appears to work and be successful.
What is it about Amazon and its Fulfillment By Amazon program that makes it so good and how can it make you money?
Here's what you need to know:
• Amazon brings about 50 million consumers per month from around the world.
• Amazon was voted the UK's third favorite retailer (IKEA and John Lewis rank first and second)
• 1.3 million companies are selling on the site.
• Amazon saw an 18 percent increase in business last year – a time when the majority of businesses were dwindling.
What Is Fulfillment By Amazon?
Amazon's FBA concept is fairly simple – like the rest of its concepts.
Bear in mind that is a lot to Amazon's Fulfillment by Amazon program.
The service means you can send any product you want to sell right to Amazon – be clothing, CDs, books, toys, computer parts, etc.
These products are stored in the warehouse and, when an order is placed, it's up to Amazon to pick and ship the product right to your customers.
What Are The Positive Aspects of The Fulfillment by Amazon Program
When it comes to the Fulfillment by Amazon program, there are a plethora of advantages.
What are the benefits?
Use Amazon's Reputation to Benefit You
People from around the world trust Amazon.
When they order a product from Amazon, they know they'll get it.
They also know they can ship it back if they need to.
This plays a part in whether or not they purchase another product from you.
Ability to Provide Quicker Service
Amazon's unique online ordering system includes faster processing and fulfillment operations.
For that reason, they can quickly ship out products to your customers than you may be able to.
Higher Ranking On Amazon
If you use the Fulfillment by Amazon feature, your item will appear closer to the top of the search results.
Products from sellers not in the FBA program have items listed by total price (the price of the product along with shipping costs).
However, an FBA seller will have their items listed by only the price.
Thus, you can lower the price of your items to the lowest possible price, making it the first item in the search results.
Free Delivery
With FBA, your customers get free delivery on your products with their Amazon Prime or Super Saver Delivery service.
This is certainly advantageous for you over the sellers who are not using the FBA program.
Reduced Overheads
With reduced overheads, you can save yourself a lot of money.
Thanks to the FBA program, you don't need to be concerned with storage, employees and administration.
You could even reduce your prices, sell even more products and boost your profits.
Increase Productivity
One of the largest possible benefits of the FBA program is increased productivity.
After all, Amazon contends with the customer service, returns, housing, packing and shipping of your products.
Therefore, your time can be spent on marketing and selling products – anything that will lead to more profits.
While the Fulfillment By Amazon program is fairly good overall, there is one drawback to it:
It's not ideal for any product that takes time to sell or is being sold by an unproven seller, as you have to pay Amazon a monthly fee to store your products.
FBA: Should You Be Using It for Your Business
When you have products that people from all around the world would like to have, the Amazon Fulfillment By Amazon program is the easiest way for them to attain their products.
All you have to do is ship your products to Amazon's warehouse where they will take care of the processing and shipping for you.
Why Should You Consider The FBA Program?
It's so much easier to sell your products using the Amazon Fulfillment by Amazon program.
After all, you don't have to worry about the shipping, as they take care of it for you.
You don't have to contend with long postal service lines each time a person orders your product.
With the FBA program, the product is sitting in the warehouse where it gets packaged and shipped out.
Since Amazon processes millions of orders on a daily basis, they can easily handle this task for you.
You also don't contend with customer shipping problems, as Amazon will also address these for you.
They become responsible for shipping problems that arise.
They will accept a return and send another product out when asked.
People are generally happy with their Amazon shipping experience.
After all, any order of $35 or more gives them free shipping.
If a person is an Amazon Prime member, they get the automatic two-day free shipping service.
You can rest easy knowing that your orders are being taken care of by Amazon who will work hard to ensure the product arrives on time and in excellent condition.
When you use Fulfillment by Amazon, you will see a rise in your sales. Amazon makes it easy for people to order and get their products.
How Do You Begin Using Fulfillment By Amazon?
It's easy to start using the Fulfillment by Amazon feature, as you manage the inventory online.
You need to send the products to Amazon and then list them to the Seller Central.
They are then listed in the Amazon account and then changed over into a Fulfillment by Amazon listing.

You can opt for Amazon's discounted shipping or choose a carrier for yourself.
Customers can order the product on Amazon, which will then ship it out for you, giving the customers the package's tracking information.
Amazon's FBA program is economically-priced, which is based on satisfying orders and storage space used.
With the FBA program, you sit back and run other aspects of the business while Amazon takes care of the processing and shipping for you.
How Safe Is It for Sellers to Use The Amazon FBA Program?
Have you made an online purchased and wondered how secure your transaction was?
Did the company lay out a policy for returns or refunds?
Chances are you know about Amazon.com and the size of the company.
You know that it offers a plethora of products to choose from.
What you may not realize about Amazon is that it provides its services to other Internet stores and companies with its Amazon Fulfillment by Amazon program.
What happens is that these online shops are noted as being Amazon Fulfilled sites, which means when you purchase a product from them, Amazon is responsible for shipping and delivering the product.
Many online retailers are noted as being Amazon Fulfilled shops, which offer an amazing shopping experience.
Some of these sites are niche-specific with many being full-blown malls that have hundreds of products for people to look through and buy.
Amazon is regarded as the "King" of Internet shopping.
There are hundreds of non-Amazon websites you can do business with, but you may wonder if doing business with them is just as safe as if you were doing business on Amazon itself.
It can be, and here's what you have to understand:
Fulfilled by Amazon means all items are handled by Amazon workers and shipping from an Amazon warehouse.
If you are an Amazon Prime member, you can get free shipping.
Free shipping is also offered to those with an order of $35 or more.
Amazon also handles all the products returns and customer inquiries.
What Are The Sites' Return Policy?
Since the order is fulfilled by Amazon, any order placed will be subjected to Amazon's returns policy.
Even if you were to order from a website that wasn't Amazon but is Fulfilled by Amazon, you still have some peace of mind that you'll be taken care of properly.
You can send back any unopened product fulfilled by Amazon within 30 days to get a refund.
Items will need to be returned in their original packaging.
If Amazon makes a mistake in the process, it will pay for the return shipping costs.
To learn more about Amazon.com and its return policy, check out its Returns Center.
Sell a Little or Sell a Lot: Which Is Better for Your Amazon Experience
There is a copious amount of information available about Amazon's Fulfillment by Amazon program on the Amazon website.
However, it can be tedious to understand and hard to get started in. If you've been looking for a much simpler overview of the program, look no further.
It's important you understand that the FBA program is not separate from Amazon.
The program is an integration of the website.
You set up your Amazon marketplace account and pick the products you want to send to FBA.
Setting up an Amazon Marketplace account isn't difficult.
There's no need to register ahead of time either.
You just create a seller's account when listing products.
You'll need to provide a business name, address, display name (your business name or other entity), a contact number and credit card number.
You can visit the amazon.com website to learn more about the process.
Go to "Sell on Amazon" to learn more.
There are two ways you can sell on Amazon:
• Sell a little
• Sell a lot
With the Sell A Little option, it means you're a hobbyist that won't sell more than 35 items each month.
There is a fee per sale as well as a referral fee, and you can only sell in a limited number of categories.
This option isn't really designed for Fulfillment by Amazon.
With the Sell A Lot option, you'll be selling over 35 items per month, and have a fixed monthly and referral fee to pay.
You can sell your items in any product category you want.
If you want to use the FBA program for your business, you should become a Pro Merchant
Seller, which gives you access to bulk listing and volume-selling tools.
You can use the web interface to manage your product description, orders and inventory a little easier.
You can import and export information about the account.
This option ends up being cheaper, so you can work on a constricted margin.
This allows you to make money from sales that the people who sell a little are unable to do.
What Kinds of Products Sold In FBA Program Can Boost Your Bottom Line
Amazon's Fulfillment by Amazon program enables individual sellers and companies to send their products to the site where it is then listed for sale.
Amazon will handle all the aspects of the selling business – from start to finish.
Shortly after sales are made, Amazon sends some of the proceeds back to the seller.
A seller must pay Amazon a fee to handle the business for them.
The FBA program is fairly easy to understand, with a step-by-step guide on how to use it on the Amazon website.
Bear in mind that even though Amazon handles all aspects of the business such as advertising, listing, packaging, shipping and communications, it means the sellers earn less money than if they did this all on their own.
The fees to use the Amazon FBA program are high.
After all, you pay not just for the storage of your products but also the packaging and shipping of these products to your buyers.
If you have a product that's low in price, Amazon may earn more from the buyers than the sellers would get from the site.
There are some instances where sellers lost money on sales because they used the FBA program.
3 Key Tips to Ensure You Earn Money On All Sales
Make sure to choose products that are similar to products that see regular sales a good profit on Amazon.
Create an offer that's different from other sellers such as offering a discount or bonus product with the main product.
You can also create your own packaging to ensure they stand out from your competition.
Come up with a unique title, which lowers the risk of them being price matched.
Pick products that tend to be searched for more often.
Jot down some commonly-used keywords for Amazon bestselling products.
How many of these products use the keyword you have tested?
Are they using the keyword in their titles?
Use the common keywords in the product's name without infringing on the brand names or trademark laws.
Pick lightweight items, as the company charges by space to store your products and by weight for every package shipped out to buyers.
You may discover that using the FBA program costs more than if you handled all the aspects of the business yourself.
However, you can let Amazon handle those aspects while you can put your attention toward other profitable measures such as finding new products or increasing the line of your current popular products to other advertising areas.
4 Alternative Drop-Shipping Services Your Company Could Benefit From
If you're aggravated by the drop-shipping process or want to change things up, there are a plethora of alternatives at your disposal.
You may know of some of them already, but a few of them are newcomers to the wholesale industry market.
Which one is right for you?
Bonanzle
Bonanzle is one of the newest companies to enter the drop-shipping market.
The goal of this company is to be one of the simplest companies can use.
It recently attained $1 million venture capital funding and is doing its best to "best" the well-known drop-shipping businesses.
Users can import eBay drop-shipping listings on their site, which tend to be much lower than you see on eBay.
For example, items $50 or less have a $1 final value fee.
eBay's final value is a standard flat 12 percent.
Bonanzle also does not charge listing fees.
National Fulfillment Services
This program is geared toward business-to-business services and consumer-facing entities.
It's been in business for over 45 years and works in multiple industries.
The warehouse can ship out products using any mail carrier.
The NFS will also take time to gift wrap products and place special messages or promotional materials inside the outgoing package.
SaleHoo
SaleHoo isn't directly involved in the drop-shipping business, but it can help you find a service that's right for your company.
It's a drop-shipping directory that also provides supplier data, product reviews and other important information a buyer may be interested in.
It includes information on over 8,000 reputable drop-shippers, liquidators, manufacturers and wholesalers.
All suppliers have been confirmed, and a review system is in place to eliminate the not-so-reputable dealers.
ShipMyOrders.com
This service offers order fulfillment, warehousing and logistics for an array of products such as electronics, books, makeup, DVDs, etc.
It specializes in these services along with customer distribution to any buyer around the world.
It also provides product photography and storage along with customer service.
Website: https://www.shipmyorders.com/
READ MORE:
Amazon FBA Success: Your Guide to Starting and Launching a Successful Amazon FBA Business