Influential Marketing vs. Viral Marketing: Depth Look at Marketing's Next Big Thing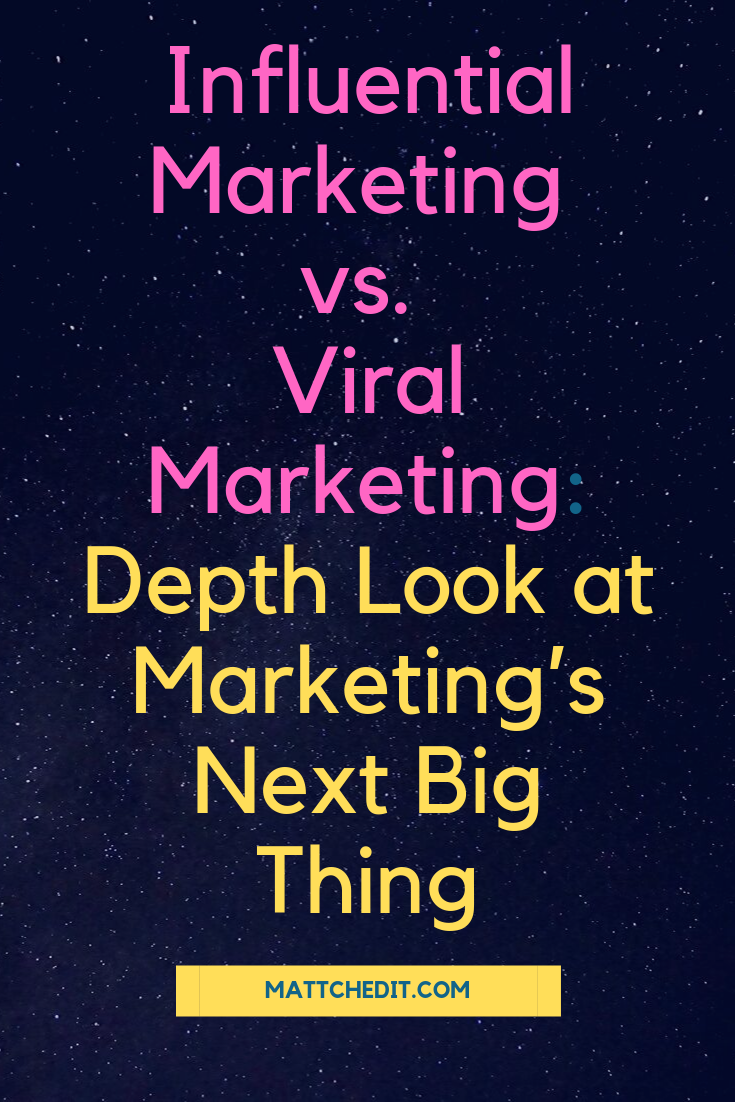 Influential Marketing vs. Viral Marketing: Which Method of Advertising Is Best For Your Company
Have you been searching for methods in which to increase the conversations people have about your brand?
Due to the aggravation traditional media has posed, many marketing firms and companies have employed some creative ideas to get the attention of their prospective customers.
Perhaps you've heard the words – "word-of-mouth," "buzz marketing," or "viral."
No matter what you call it, it's a very cheap way in which to market to your target audience and increase your brand's awareness.
Viral Marketing vs. Influential Marketing: What Exactly Are There?
Viral marketing is the method by which companies capture the media and consumers' attention to the point where there is talk about the brand.
Influential Marketing is founded on two things: people's own experience with the brand or what people have said about it.
These experiences generate news and become a source of entertainment. It's really an unconventional way in which to do business.
Influential marketing is getting the media and consumers' attention so that they talk about the brand in a newsworthy and captivating way.
The goal is to start conversations – to ensure people are talking about your brand and the media covers the "news" about the brand.
You're not talking "at" consumers; you're actually talking "to" them.
Is Influential Marketing Working for Companies?
The advertising market has exploded with all kinds of companies trying to get a piece of the pie.
And, for that reason, marketers have looked at more creative methods in getting their brand out there and recognized by consumers.
Some have become devious in their area, which has resulted in consumer mistrust.
People don't want to be victims of scams and be wrapped in a scandal.
This buyer's remorse of previous decision-making for purchases has led to the psychological wall of resistance whenever they by with something that comes across as a sales pitch or marketing tactic.
It's why many buyers are looking to family and friends to get recommendations for products and services.
They don't have to do a lot of shopping and are more likely to act based on these recommendations.
This is why companies have gone to great lengths to boost their customer referrals.
Influential marketing helps garner consumer interest by sharing information via the company's social media network where its target audience is at.
They use this information to help consumers become customers.
They won't be just another company trying to make a dollar, generating the mistrust.
Instead, the company becomes well-known and recognized that captures the consumers' trust.
FULL FREE COURSE: INFLUENTIAL MARKETING
3 Key Things Your Business Needs to Include In Its Business Marketing Plan
When you first begin your business, expanding it can be very tough.
And, this is especially true if you don't have any ideas on how to market your brand.
A business website with an amazing design can be extremely useful in marketing, but only if it's used in conjunction with other marketing techniques.
With a well-thought-out and methodical website marketing plan, you can propel yourself ahead of your competitors and garner more customers/clients.
This will help in three ways:
• Gain sales
• Reduce your overall advertising expenses
• Produce a higher return on investment
One of the reasons websites are so useful for a marketing plan that focuses on growing your business is that it's constantly working for you.
Think about it: The Internet is open for business 24 hours, seven days a week, which means the never-ending promotion of your products and services.
Website Maintenance
Another important aspect of growing your business is your website maintenance.
The biggest goal you have in your marketing campaign is to ensure your company can be found online by your customers.
With visibility, you can increase your visitor base and add to the company's growth.
Your website's design will have a great impact on the marketing strategy so long as it fits in with the products/services you offer.
You also want to make sure it's adapted to your target audience/market.
Make sure the design captures your visitors' attention so that they'll want to partake in your services or products.
Impactful Marketing
Another way to increase company sales is to use an influential marketing message that will have an impact on visitors immediately.
With an impactful marketing message, your visitors will want to look through your website and learn as much as they can about the business.
Don't complicate the message; simplicity is best here.
You want to add to your company's ideas and solutions regarding the products and services you offer.
If you have them, include testimonials for prospective customers to read.
This gives them a sense of how you do business and what they can expect.
It helps build and establish your creditability.
Call-to-Action
When traffic visits the site, you want them to know what actions to take.
This is known as the "call-to-action" – a useful marketing ploy that should be well-placed on the website (homepage, blog, product page, etc.)
The idea is to turn your traffic into leads that can then become prospective customers and finally customers.
You can also entice folks by offering free consultations or trials to increase the ROI and decrease your advertising costs.
The key is to establish a relationship with your potential customers so that they become customers/clients and have trust in what you have to say and offer.
Marketing Landscape Adds Influential Marketing to Its Arsenal
There is little doubt how much change the marketing sector has seen.
There is a multitude of new trends being used to lure customers into buying products/services.
Where traditional approaches are failing – TV commercials, print media, radio broadcasting, etc. – technology has picked up and allowed companies to better target their audience.
How Influence Marketing Is Changing The Way Businesses Do Business
This change is the latest influencer marketing idea, where just prospective customers are the ones seeing the advertisements.
Professionals do this by dissecting the audience and placing them into categories such as article choice and purchasing power.
You can see this by looking at websites and social media websites.
Analytics teams carrying out researches that will help to find those influencers.
It's a huge job, and companies can contend with it by using the different technologies at their disposal.
They can categorize people by what kind of purchasing power they have and what they buy on a regular basis.
An array of registered portals can help research teams gather this information.
These large databases are given companies an opportunity to make a profit for themselves.
However, categorizing a target audience based on products is the key process, but it's the influencer that helps entices them to buy a product/service.
Thanks in part to SMS advertising, mobile influencer marketing has become increasingly popular.
Data research from various open-source networks allows businesses to use the data to make an impact on potential customers and their actions.
There are many influencers in every category of business, which means influence marketing can be highly successful… when used correctly.
Larger Databases Surpass Smaller Ones for Data
In the past, smaller databases would collect and store information, but were soon replaced by larger database technology such as Hadoop (a company that can help online companies go through large volumes of data it attained from sources such as Facebook, Google, Twitter, etc.)
The entire database has been separated into easily-controlled portions, which means every cluster has its own data to store and no data unrelated to it.
The idea behind influential marketing is that companies target a person who has the ability to generate business for that company via actions taken.
To reach such an individual, analytics companies are using the tools available to them by separating the data.
These people hold a fair amount of trust among peers, making them promote products that everyday people would use.
Marketing Landscape Is Different But Still The Same
In the past, marketing classes focused primarily on the basic principles such as the planning steps of identifying your market opportunity, identifying the target audience and then laying out what the company's unique selling proposition was and how to position itself against its competitors.
Once a company did this, it then focused on executing the plan, which meant to develop the message and promoting it through various means such as advertising, direct mail, special events, public relations, etc.
A company would also work in conjunction with others to get customers' attention and give out the product.
That's the simplicity of marketing… for the past. Today's marketing is something new altogether.
Marketing today takes on so much more such as:
• Blogging
• Email marketing
• Pay-per-click advertising (PPC)
• Search engine optimization
• Social media marketing
• Web-based marketing
It would seem that everything one knew about marketing has changed, but did it?!
That's really the question, isn't it?
What Is Needed for Success?
If your business is to garner any success, you should still realize what your market opportunity is and who the audience is you're trying to target.
What is it that makes you better than your competition?
Thanks to the advent of the Internet, answering these questions has become easier, but the playing field has been leveled.
After all, anybody can do it.
The available information sources and tools to research marketing planning questions have become far more comprehensive thanks to the Internet and its search engine technology.
With so many social media discussions and blogs talking about them, you may feel overwhelmed and may feel unable to find who your target audience is.
Since your competitors can position themselves just as well as you using online branding, blogs and corporate websites, it can be hard to make your presence known.
What You Need to Do to Stand Above The Competition
After you take advantage of the resources offered, it would be best to relook at the basics of market planning and have an answer to each of the questions below:
• How large is your current target audience?
• Is that audience growing?
• Will it be a lucrative opportunity?
• Can you readily identify the target audience and how they can benefit from the service/product you are offering?
• What differentiates you from your competitors?
• Does this difference come with a competitive advantage?
There are huge changes going in the realm of marketing execution, which have ensured traditional mass-marketing isn't the same as before.
First of all, thanks to search engine marketing, the original advertising method is no longer about "push to get your message out," but "pull your audience in."
Today, people only see ads that are relevant to their searches.
On top of that, advertisers pay only when ads have been clicked on.
Secondly, traditional PR has gone from budding up with influential media to budding up to authoritative websites to get credibility and links.
How You Can Leverage Twitter and Facebook to Garner Followers and Fans
The two most powerful tools in your social marketing arsenal are Twitter and Facebook.
After all, these sites give you the ability to conveniently and quickly connect with people who think like you… for free!
Now, you may be wondering how best to use these two social media networks for your business.
And, by both, yes, that means using both of them simultaneously.
Why?
• Twitter is a great way to build your list quickly – much more so than targeting your audience via Facebook.
• Facebook is more about getting individuals to read what you have to say – to view videos and pictures that you share for them to share, etc.
With Facebook, you can write longer messages to your audience, reaching out to them on a more personal note and establishing a relationship with them.
With Twitter, you have just 140 characters to make your point, which also includes links you want to share with this information.
Facebook is all about sharing what you do so your audience can learn who you are.
It also gives you a chance to showcase what solutions can help them.
This is done by getting them to click on your YouTube videos, blog or funneling them into your lead capture page for a personal newsletter.
Using Twitter to funnel people to Facebook and then to other pages is leveraging the tools at your disposal.
It can be great… when done just right.
How You Can Funnel Twitter Followers to Your Facebook Page
Use TweetLater
This is a free tool that lets you come up with an automatic "direct message" new Twitter followers will see on their page and in their personal email.
The great thing about this tool is that it works on autopilot.
The problem is that people go overboard using this and end up doing more harm for their business than good.
It's best to stick to a simple message such as, "Thank you for following me. You can check my Facebook page as well to keep in touch."
This is simple attraction marketing.
Anybody that follows you on Twitter will get this message and could lead to an increase in Facebook fans.
The only thing you need to do is fine your niche and follow them.
Twitter is all about reciprocation – you follow, they follow and vice versa.
Create and Post Tweets
Use Twitter to make update tweets and share information, jokes, news, tips, etc.
Whenever you can slyly do this, throw in a link to your Facebook page.
The idea is for them to click on it and like it to join your Facebook page.
Talk About Joining Your Facebook Page
Sometimes, you just need to be blunt about what you want.
Talk your Twitter followers into joining you on Facebook if they have yet to do so.
Then, add the link to your Facebook page for them to click on.
That's how simple it is to use Twitter and Facebook for your networking needs.
Social Media Strategist Company Offers Metrics for Businesses to Develop Campaigns
Based on information from Khoros, who runs a social media strategist company out of San Francisco, former president Barack Obama and heartthrob sensation Justin Bieber can and will become influencers.
Does this mean you need to have their clout to become an influencer?
Of course not!
However, how does a company get to become a web influencer?
Khoros's company looks over posts and tweets made on social media (Twitter and Facebook).
It also analyzes Facebook statuses made to get a sense of what impact of the updates and how they align with your goals.
It may seem a bit odd that a teen idol could have more influence than a former president, but if you think about it, it does make perfect sense.
As a social media marketer, there is a lot you can learn from the lessons here.
First off, Bieber is a product while Obama is a service – one that can be summarized in easy-to-understand messages.
For instance, one message is dedicated to getting you enticed to purchase records while the other is an amalgamation of messages –some of them being controversial to those receiving the recipients.
Both of them have a reputation for being nice and decent, but just one has a clear sense of purpose – something politicians must carefully deal with while the entertainer can appeal to the younger audience.
Both individuals have successfully used social media to their benefit.
For example, Bieber is a worldwide pop musician who uses a highly-targeted online and offline campaign.
Obama was able to become president using the same social media, with his election placed on the backs of younger voters who were wooed into politics through an array of Twitter and Facebook campaigns.
Though Khoros is still rather new, there is no doubt that larger corporations are interested in gauging how impactful a social marketing strategy can be.
And, businesses are free t gauge their own Khoros score by typing in their Twitter username and getting the information they need.
The metrics can provide you with a plethora of information that you can use to affect how influential you are.
This is an important point for all social media marketers, as it can validate the campaigns and show future clients how impactful they can be.
Now, whether or not, it's successful, it shows there is a high demand to quantify benefits of this kind of marketing and show some returns on investment.
3 Key Steps to Have A Successful Virtual Marketing Campaign
One of the best ways a company can spread word about itself and its products/ services is through virtual marketing. What exactly is virtual marketing?
You need to understand that it wasn't that far back that business owners had to carry out local campaigns to spread word about their products/services.
For instance, they had to make cold calls, participate in direct mail, join of local Chamber of Commerce or even use the phonebook.
Today, however, you can work with anyone in the world to help spread the word about your business and its products/services.
And, if done the right way, you don't have to worry about going to the people; the people will actually seek you out.
This is the time of the online customers.
While the Internet has made it much easier to find an established client with whom you may have never met, it's also generated some high expectations among individuals.
People can look at the profiles of local business to find a company they want to do business with.
Merchant Circle is one such example of these such sites.
People can also just Google businesses.
No matter how they do this, they will find you.
And, for your company to succeed, you want to come across as professional and able to compete in the technological age.
If you fail to do this, you won't get the kind of business you desire.
3 Steps to Successfully Pull Off A Virtual Marketing Campaign
Create A Great First Online Impression
Whether you meet someone in person or you meet them online, you always get a first impression of these individuals.
The same can be said of businesses.
When a person comes to your website, they are going to judge you based on how it looks like.
How many times have you gone to a website and judged it based on what you saw?
It's the same thing!
If you do it, you can rest assured others have done it too.
Become An Influencer
Actors, actresses, singers and politicians are all regarded as influential speakers – use your website to become one as well.
This is done by sharing with visitors what you know.
This establishes trust and builds your reputation.
Be sure to listen and participate in the discussion, giving thoughtful responses to visitors and clients.
Go ahead and put in your two cents about a matter. You want to come across as an industry leader.
Create An SEO Campaign
Once you have a well-rounded online presence that generates the attention you need to connect with the target audience.
Be sure to visit your local SEO company to get a campaign going.
The goal of the campaign is to be successful, so be sure you choose a company that has your best interests at heart.
4 Tips to Ensure Blogging Success for Your Website and Company
Blogging for a successful business is much more than posting two times or more a week about industry data.
If your business is going to be successful in its blogging efforts, you must look at your entire online marketing strategy and find where the blog fits into it.
You can promote your blog on the social media platforms you use, making sure to offer pertinent information and that they are well-optimized to ensure increasing exposure for your company and blog.
For you to use the blog the most that you can, you need to establish some blogger relations.
How do you do this?
Make Comments On Others Influencers' Blogs
Be sure to look for blogs that relate back to your interests and industry, making comments on them at least one time a week.
You want these comments to include invaluable advance, complementing the post and offering it some constructive criticism.
Be respectful here, as some people don't take too kindly to criticism – well-intentioned or not.
Don't add your blog or website URL into the comment body.
This is seen as spam, and the comment won't be added to the page.
In the comment section, there is a space that requests the blog or website URL along with your name and email address.
This is where the link needs to go.
Talk About Other Bloggers In Your Blog
Be sure to mention other bloggers in your blog, as readers get a better insight into what you do and don't know.
By doing this, it proves that you do know what is going on and that you have established connections with other professionals in the industry.
When mentioning the other bloggers, it demonstrates that you have read their own blogs and are keen to follow their advice and share their tips with your followers.
Be sure to comment on these bloggers' page by letting them know that you loved their post and that you mentioned it on your own blog.
Thank them for sharing the tips they have.
By doing this, you're on their mind, and they may check out your blog to see what you have to say.
Post Article On Your Social Media From Other Blogs
When talking about bloggers on your social media page – be it Facebook, Twitter, LinkedIn or whatever – you're adding to the diversity to the page's content.
It also means you have looked for important information and found something you believe is important for your followers to know.
Ask Other Bloggers If They Can Guest Blog
When you acquaint yourself with the blogging community, you start establishing yourself in the community as a leader.
When this happens, other bloggers will check out your blog and make mention of you on theirs.
Consider reaching out to them to see if they would do a guest blog on your page.
Mastering The Art of Self-Mastery Can Lead to Business Success
It's not easy to operate a home business, despite what people seem to claim.
So many people go into the field, thinking they can easily make money all due to the economy.
The truth is, you get into the field, and you may end up burned.
Think about what the financial leaders have been doing to the hard-working individuals.
Of course, this is a topic for another time!
For people who decide to become an entrepreneur – to start a home-based business – they find out that there is one skill they need to have to start seeing some progress.
As a new business owner, be it that it's your first one, you need to understand the art of self-mastery, which is the skill to master yourself.
Why is that though?
Think about it for a moment.
Is it even potentially possible for you to attract qualified leads that will bring in sales to your home business without the proper belief, mindset and attitude that people find enchanting?
The truth is, it boils down to being attractive – your website and business.
The key is to be attractive, so others will want to come to you and see what things you have to provide them.
What does it mean to be self-mastery?
What Exactly Is Self-Mastery As A Home-Based Business Skill?
It's imperative to have self-mastery skills, which can help you out in three ways:
• Spiritual health
• Physical health
• Mental health
By improving them, you can move forward into being a financial success story.
Of course, this means getting the best possible internet marketing education you can, since that's what a home business will need to use and work with.
It also helps to do the following things:
• Condition your mindset for the best training that you can get
• Put attention on your actual physical health
• Keep your mind focused on what you want to attain
When you're mindset is developed for the home-based business, you can start thinking positively and productively and then start taking action on those thoughts.
Why You Must Put This Self-Mastery Skill To Work For Your Home Business
The first thing you need to understand is that mastering the art of self-mastery isn't just advantageous for you.
It's a skill that can be shared with anyone – but you must offer them something of value for it to be successful.
If you fail to do this, then you're just wasting time and money on a fruitless venture.
Well-Designed Logos Create Lasting Impressions with Your Target Audience
First impressions are everything – they're even the last impression.
It's a statement that anyone can agree with, and looking back at successful brands brings light to this truth.
Why Logos Are So Important
What do you need to create a first great impression with your audience? You need a logo!
A company's logo is the way in which clients/customers are pulled into the business.
Even without seeing or touching a product or using a service, it's the logo that brings someone to a company.
A logo is what makes all things possible for a company.
With a beautiful, eye-appealing logo, you can lure customers to the business and ensure success.
Most people see logos are just a picture, but it's so much more than that.
In fact, there is a meaning behind them.
It iterates what the company's goal and mission are.
It also gives customers a glimpse into the process.
The logo is a representation of the organization that reaches out to the public before you actually do.
Where to Get Your Logo
Of course, now you need to know who can offer you a great logo.
Since you need a professional logo for your company, you need to turn to a professional logo designer – someone who is up to the task of creating a well-designed, eye-catching design.
You can hire a designing firm with highly-experienced and knowledgeable employees to create a unique logo.
They will ask you questions about the business, what you're looking for from the logo, colors you want to use and more.
They then will take this information and craft you a logo that you can use if you like.
With a well-thought-out, beautifully-crafted design, people that didn't know you before will learn what they can about you and potentially become customers.
This is especially true if you offer a great service.
Your potential customers become customers who then possibly become long-time customers.
Of course, the first thing you must have in order to make this happen is a logo!
What Constitutes A Great Logo
There are all kinds of rules when it comes to getting a great logo for your business.
First off, you need to remember the old saying, less is more.
Go with simple graphics with a fetching font and colors.
While you may think being complex brings in people, the truth is a complicated logo only confuses your audience.
Stick with simple!
You also want a logo that people can remember when they're traveling down a highway or surf the information highway (Internet) and see it.
You only have a few seconds to capture a person's attention – make it an impactful one.
If you need a logo for your business, you want one that is unique, eye-appealing and will last for a lifetime with any complicated measures to it.